…with our Engadine specialities and delicious meals for lunch
…with our homemade cake and a good cup of in the afternoon
and with our regional and innovative dinner Ustaria menu in the evening.
(we recommend to book a table in the evening)
Wine
Explore our impressive wine list with a selection of excellent wines in all price categories. We reserve the right to make year and price changes.
Table reservation
we're looking forward to pampering you
Please let us know in advance if you have a food allergy or intolerance.
We would like to point out that we can only take them into account to a limited extent.
Openings
Wednesday to Sunday from 07.30-22.30
During high season also Tuesday from 12.00-17.00
closed on Monday and during low season also on Tuesday
MID-SEASON:
from Mid-October until Mid-December
and Mid/End-March to the End of May
Our hotel and restaurant are closed during this time.
We hope for your understanding and thank you for your loyalty.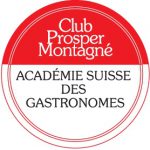 Club Prosper Montagné has been a meeting point for those who appreciate dining pleasure and excellent products for more than 50 years, following the motto of the great chef Mr Prosper Montagné: "Good things are only made out of very good things"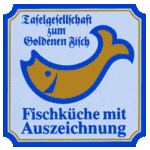 Tafelgesellschaft zum Goldenen Fisch
The "gastronomic and culinary" Society of Friends of the fish kitchen was founded on September 4, 1969. The founders wanted primarily to promote the art of fish-cooking in hospitality up and down the country.